© 2015 Thomson Reuters. All rights reserved.
Thomson Reuters | 610 Opperman Drive | Eagan | MN | 55123 | USA
Click here to view our privacy statement.
Data collection during ediscovery is critically important because a significant number of court sanctions are the result of inadequate or improper data collection. This white paper discusses the importance of proper data collection in "mid-range" ediscovery cases – i.e., cases that generate approximately 100-500 gigabytes of raw, unculled data.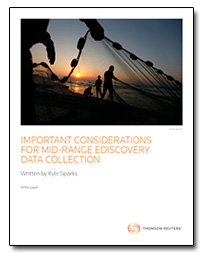 Download this white paper and discover important considerations, as well as best practices for mid-range data collection.


MINIMIZE THE RISK OF THE COLLECTION PROCESS
Download the white paper now!